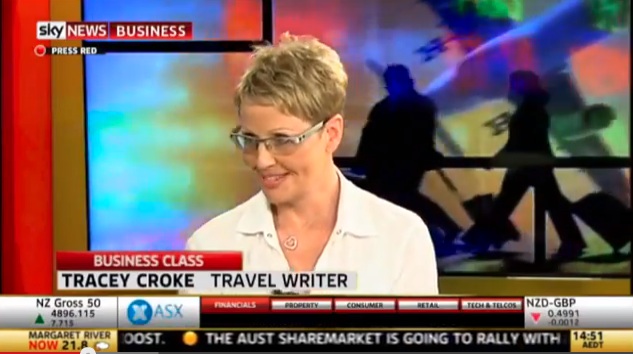 There's been a huge rise in corporate cycling recently and the folk at Sky News invited me on to their "Business Class" travel segment to have a powwow about my two-wheeled travel know-how.
David Flynn, Editor of Australian Business Traveller, was in the hot seat before me to share his airline news analysis.
When David walked into the waiting room ten minutes before the segment went live, I was preoccupied trying to visualise smooth-talking expertise seamlessly flowing from brain to mouth. But my mind refused to cooperate, preferring to focus instead on questions like have you got a cappuccino tash? …and… what if your nose starts running on set?
I'm sure it was the outward manifestation of my inner Miss Jones that prompted David to try and rescue me.
David: (in a helpful tone) "Have you done live TV before?"
Me: "No, just live radio. Have you got any tips?"
David: (approaching hand out with gusto) "Right, let's have a look at your questions then….,"
Me: "What questions?….."
**********************************
If you get the opportunity to talk on live TV, here are a few Bridget Jones inspired tips
Ask for the Questions (Doh!)
Put a couple of A4 sheets with key talking points in super large font on the desk and try not to flap them around. Alternatively, use an iPad (David's tip) so you can discreetly swipe between questions
Look down at the notes when the presenter is talking because this is when the camera and the viewers' attention will most likely be on them and not you
David also advised me to pace my answers. We humans have a tendency to talk in fast forward mode in these situations.
Not all studios have hair and makeup, so make sure you're not shinning like you've just done a shift in a burger bar
Practise by talking to a mirror. If it replies, see a doctor.
Thankfully, It was a frothtash-free affair.
Have you got any tips for talking live on telly? Please share.