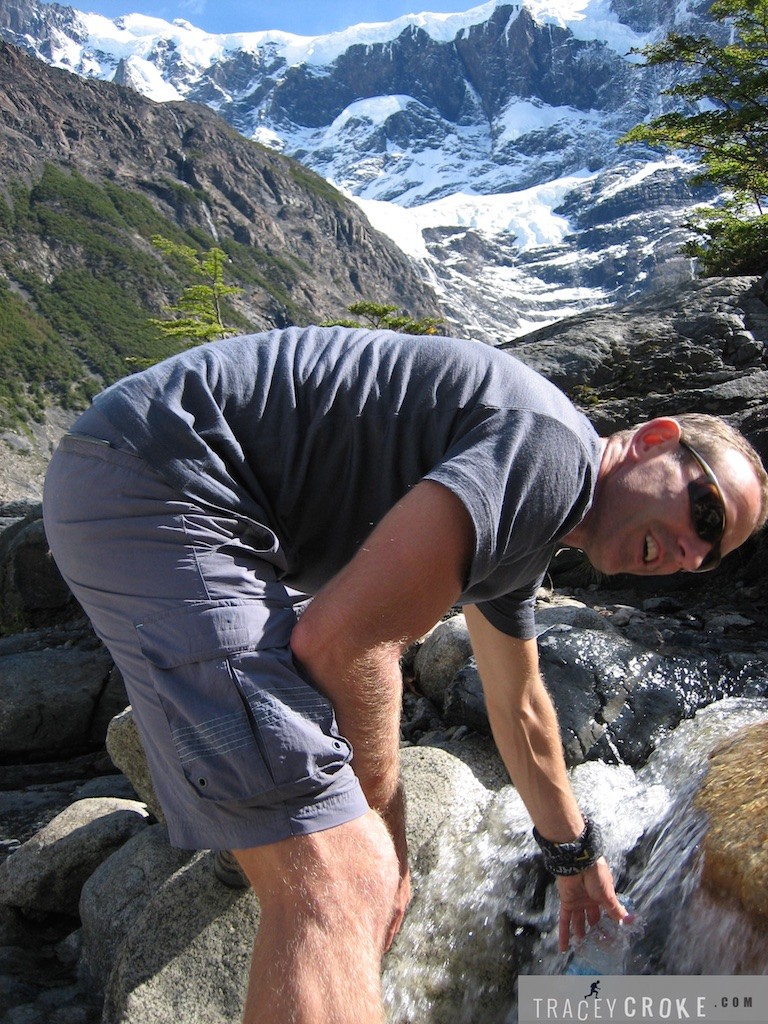 It's that moment when you suck on your CamelBak tube….. it gurgles, dispenses a few bubbles on your parched tongue and suddenly you're faced with the dilemma of dehydration or drinking your own wee.
Embarrassingly, it's happened to me several times (the running-out dilemma and thankfully not the wee-drinking) when I've underestimated the hot weather and got lost even on day trips.
Before you hotfoot it to the nearest fast-flowing river, remember crystal clear 'freshness' can't be trusted. It could be harbouring deadly bacteria from a decomposing animal upstream.
Here's another gut-rumbling fact to chew over: The US Environmental Protection Agency (EPA) estimates that 90% of the world's fresh water supply is contaminated with microorganisms from human and animal waste spread by rain and run-off.
That's why it's a good idea to have something in reserve other than your bladder for emergency situations.
Getting rid of water nasties
There's mucho science speak about water "purification" or "disinfection"  Now we could talk about the different forms of microorganisms until they multiply out of our microscopes, but when you strip out all the jargon and eye-glazing italic words of more than six syllables, it all boils down to three groups that you want to make sure your water purification eliminates; bacteria, viruses and protozoa. I'm going to wrap them up and call them "bugs" that make you sick.
There are several ways of debugging your water. To meet EPA standards methods must remove, destroy or deactivate  99.9% of bugs including a particularly stubborn one called Cryptosporidium. Again, to simplify, I'll refer to it as the C-word.
Let's assume the water is from a natural flowing source (pictured) and not scooped from a muddy puddle. In which case, I would filter the water through a sock al a Bear Grylls to take out the junk and larger particles first. This is not advice or recommended, (disclaimer) I'm just saying what I would do in a dire emergency.
The pros and cons of decontamination methods:
1. Heat
Pros – This is the simple, effective, tried and tested centuries-old method. Most germs die quickly at high temperatures. Water that has been boiled for one minute (three minutes at higher altitudes) is safe to drink after it has cooled says the Centres for Disease Control and Prevention (CDC).
Cons – Simple and effective only if you're carting around fuel and a stove.
2. Filtering
Pros – A variety of filters are available that will remove bugs from water. If taste is a priority then filters are the way to go. Technology has moved on since the days when filters were marginally faster than distilling water with the sun. Yes I'm exaggerating, but when you're thirsty, it felt like it took just short of forever. Now there are filters on the market that will purify a litre in several minutes. In the past I've tried Purificup which filtered fast using "nano-silver technology" to debug the 99.9%. As I said, don't ask me about the science; my limit is lighting a bunsen burner, but you can read up on it here. The filter weighs only 305 grammes and tasted better than some drinkable tap water I've had.
Cons – Reviews often talk about filters clogging so there's some maintenance involved and still a bit of extra weight to carry. Check carefully because not all filters on the market remove viruses so it's best to use one with a disinfectant says the CDC.
3. Ultraviolet (UV) Light
Pros – We've been using UV light to clean water for around 100 years. Portable units that deliver a measured dose of UV light are an effective way to disinfect small quantities of clear water. SteriPEN is a popular choice which meets US EPA standards certified to destroy the 99% including the C-word. It uses no chemicals, is fast (treats one litre in 90 seconds) and with a model available at 74 grammes, it's a super lightweight option.
Cons – The CDC says this technique is less effective in cloudy water since germs may be shielded from the light by small particles – sneaky bugs.
4. Chemicals
Pros – Tablets or packets of powder usually combine chemical disinfectants (such as chlorine or iodine) with a substance that makes the water clear and improves its taste. This is my preferred method of water purification purely because the weight and volume to carry is negligible and it's maintenance free. Google might throw up the general opinion that chemicals don't kill Cryptosporidium. I use Katadyn Micropur Forte  which is registered with the EPA and – according to Ray Mears and Katadyn – zaps the C-word bug too.
Cons – You'll have to wait 30 minutes before your water is drinkable. There's a slight bleachy taste to it, but way more preferable in emergencies than drinking your own pee.
Have you ran out of water on a trip? What did you do? What's your preference in water purification?
More Reading: CDC – A Guide to Drinking Water Treatment and Sanitation for Backcountry & Travel Use
And here's Bear's sock method
Disclosure and Disclaimer: This post is based on my experience. Any content and discussions should not be construed as advice, regardless of the source. PurifiCup™ sent me a Natural Water Purifier at no cost to me. I was not pressured in any way to make a positive endorsement about Purificup or paid to include links to any brands I've mentioned in this post. You can read my full disclosure here and my disclaimer here.