I was having one of those whimsical "oh you never know" moments when I entered my video about mountain biking in Ethiopia into the Filmed by Bike Festival in America.
I should also add that my glass was half-full with a Barossa Valley red at the time I stumbled across it, which definitely put a rosy tint on the proceedings.
The following day, when I'd sobered up, I thought I'd judge my chances of being selected by having a squizz at a few entries that made it through to the previous year's festival.
I viewed several films that appeared to be made by professional, talented independent filmmakers, as opposed to someone like me, who'd got a bit of training at the local Apple store. I blushed and waited for my polite rejection email, but it didn't arrive.
Instead I got this, which I had to read twice.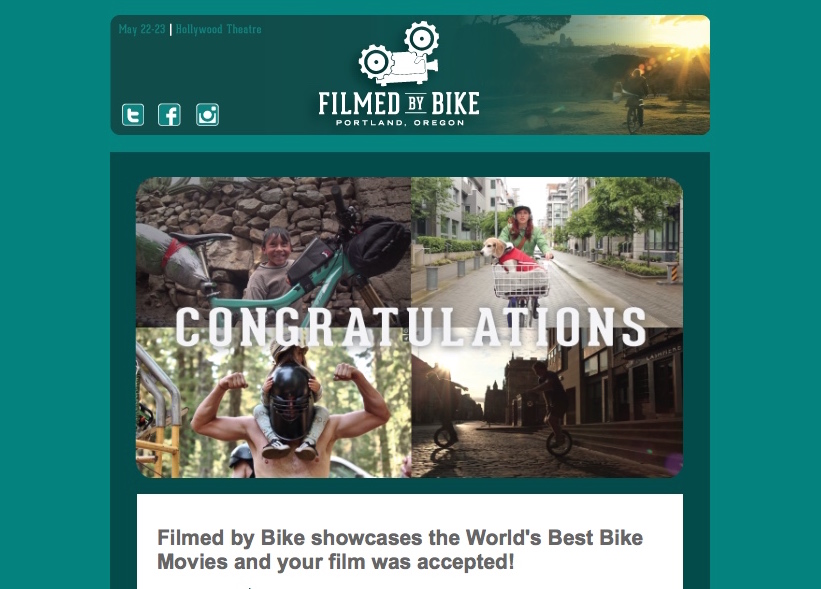 Naturally I'm more than excited that my "film", as it's now being called, will be shown on a big screen. At the same time, I feel I should hold up my hand and explain that I don't think I miraculously developed an overnight filmmaking talent. But I thought it was worth offering some insight into how my humble little video got through, because as I've discovered, you don't have to be Steven Spielberg to make a film deemed worthy for an audience outside of your family and friends.
The mountain bike expedition I joined in Ethiopia set out to find the best rideable single tracks in the Simien Mountains. En route, we summited Ras Dashen, the country's highest peak. Only a handful of people had done it before, so it was well worth the effort to record as much as we could.
It's tricky to capture the action when so many other elements have to take priority such as the success of the expedition, safety, coping with altitude, concentrating on the challenging riding, checking the bikes, dealing with injury and the unexpected, reaching and setting up camp, being completely knackered.
The list is endless even without remembering to sometimes just forget about the camera, experience the moment, the thrill, the people, the conversation, the joy of just being there.
Myself, expedition leader Tom Bodkin, team medic Richard Wain-Hobson and my husband Paul, (who I forgot to credit in the film!) grabbed footage when possible. Because we live in different countries, we agreed to swap clips and make what we could of it when we returned to our respective homelands. In other words, between us we had little technical talent and no story concept; the classic ingredients of failure.
When I got back, I spent around 40 hours going through, rearranging and editing the footage. There was no financial reward or reason other than a compelling feeling to share the experience and convey the spirit of the Simiens and its people.
The unexpected rewards came via Facebook messages of thanks, many from Ethiopian people around the world who saw it, and comments from Filmed by Bike director Ayleen Crotty, who reflected the feelings of a proud nation still trying to move on from its tragic past.
Wild Tracks Ethiopia was selected from over 100 submissions to be shown at the 13th Annual Filmed by Bike in Portland for the important glimpse it provides into a world our viewers may not otherwise ever see.

The commonly presented image of Ethiopia is one of starving children, flies, a dry landscape and hardship. Through adventure and exploration on bikes, Wild Tracks showcases Ethiopia's beauty.
I don't expect to win the coveted "Golden Hemet Award" for the best "beautifully executed" film. I'm already happy with my prize that the judges consider Wild Tracks worthy enough to be shown and that more people will get to see a refreshed image of Ethiopia. In this case, it really is the taking part that counts.
So maybe you're sat on that footage that nobody else has got? If you can put together a film, tell a story, offer insight, or shine a fresh light on a place, why not give it a go? Share it with the world on social media and enter it into a festival ….. you never know.
Good luck to the other Filmed By Bike successful entrants and cheers to the judges. I raise my glass of Barossa Valley red to you all.
About Filmed By Bike:
Wild Tracks will be screened on Saturday 23rd of May (Sounds weird saying that) on the Adventure Night in – of all places – The Hollywood Theatre, Portland, Oregon.
Filmed by Bike has helped foster a community of independent filmmakers creating bike-related work and it's growing every year.
You can submit a film to Filmed by Bike, visit FilmedByBike.org. Submissions are accepted year-round and the jury reviews selections every January.
Filmed by Bike is available for screenings around the world. You can bring a bike movie film festival to your town. See details here.