"Never in 16 years operating here have I seen the snow so low down and so deep at this time of the year," explained Alps guide Jamie Carr. We'll have to adjust the route."
It may've been summertime, but mountain biking was far from easy on The Tour Du Mont Blanc, also known as the Three Countries Tour because it traverses the frontiers of France, Italy and Switzerland. It's one of the world's iconic long-distance hiking trails also open to mountain bikes.
Adjusting the 175-kilometre loop around the 11 peaks of the entire Mont Blanc Massif wasn't a big problem. Wriggle room is catered for via a customary code of use, which – unless signposted otherwise – means all hiking routes in the Alps are open to mountain bikers too.
Hikers, quite rightly, have right of way. Still, most I passed happily stood to one side, particularly on the technical sections.
Not only that, the trekkers cheered and whooped when we rolled into the mountain refugios, where hiker and biker banter continued over steaming hot chocolate you could stand your spoon up in.
The late unseasonal snow, however, turned out to be more of a challenge for yours truly. Although I grew up in the chilly northern hemisphere, my winter sports skills amount to sliding down the local knoll on a dustbin lid way back in the day when I was young and bouncy.
Thankfully, the rules of riding through snow are fairly simple. On the ups the bike will be on you, so it's a good idea to prepare for the trip with some hike-the-bike stints – thirty mins to one hour.
On the downs there's nothing to think about except balance really. The bike will take the least path of resistance and with brakes and steering rendered useless, there is only one way to stop – throw yourself off.
So with a very short lesson behind me, all I had to do was point my bike towards the valley below, shove my bum back, and try not to plunge headfirst into a bunch of cheery hikers.
If I did this route again, which I would just for the scenery, I would go as early as possible at the start of the mountain bike season. I've not had this much fun on snow since I ventured off with a bin lid as a shivering seven-year-old.
You might want to turn the volume down towards the end of the clip. You've been warned…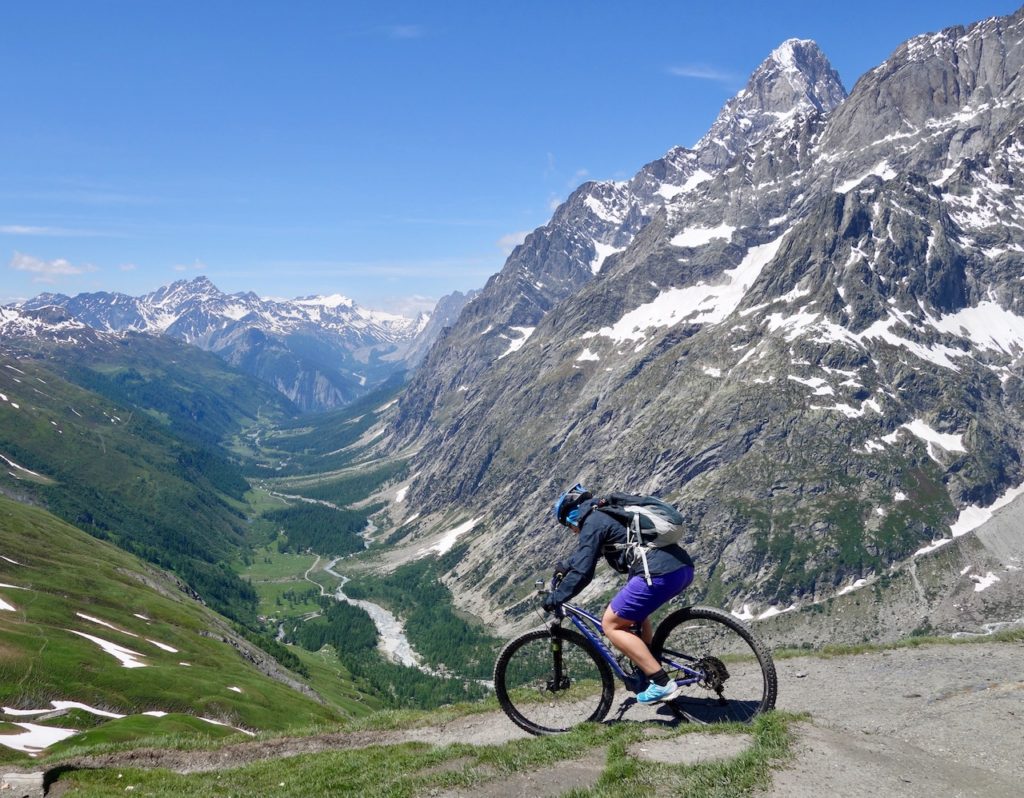 More Info on Mountain Biking in the Alps
Guided: Ride the Alps specialises in guided mountain bike holidays in the French and Swiss Alps
Best Time to Go: June to September
How to get there: We flew to Geneva. From there, it's just over 100km by road to Chamonix and it takes a little over an hour by car or minibus. Shuttles charge approximately €50 per person for a one way transfer. A taxi will cost around €250. The train journey is 3 ½ hours.
Where to ride: Rule of the Alps – if you can hike it you can ride it, but note that hikers have right of way.
Info on the Tour Du Mont Blanc
Route: The Tour du Mont Blanc is approximately 170km (105 miles) and usually takes around five days to complete on a bike. There are a few different routes and the length can vary. It's a circumnavigation of the Mont Blanc Massif – a mountain range made up of 11 major independent summits, each over 4,000 metres, straddling France Italy and Switzerland. The journey is named after the highest, Mont Blanc, at 4808 metres.
Terrain: Terrain swaps between double tracks and technical single trails, passing through alpine pastures, past glacial lakes, along deep valleys and over high altitude passes. The total ascent and descent is roughly 20,000 metres. A couple of climbs each day, averaging 1500 meters in total are rewarded with whopping descents ferreting out as many single trails as possible. There is a lift option on the first day, but most are closed in the summer.
Where to stay: Outside Chamonix, Accomodation on the TMB is mainly small hotels, chalets, guest houses and B&Bs. Most are family run. Refuges or mountain huts offer simple, no-frills, mixed dormitory style accommodation.
Weather Conditions: During the summer months, the mountain passes are usually free of snow-cover. But as you saw in the video this is not always the case. Temps in the valleys are 10°C to 27°C with up to 9 hours of daylight. Mountain climates are unpredictable so prepare for variable conditions including summer storms, which are common.
For more bike adventure inspiration, subscribe to my YouTube Channel

More from The Trail Tart