Mountain Biking Macedonia
What defines a magical place? I'd say magicians for starters. And Macedonians are remarkably skilled at pulling rabbits out of hats, so to speak.
Want to go canoeing? Take a cooking lesson? Have a massage after a long day on the bike? "I'll call someone," our guide Jovan Jovanoski would say, and in a flash, said someone would appear in pinafore, or with a paddle, or set up a massage table in the orchard garden of our B&B accommodation.
Macedonians were doing pop-up before pop-up was a thing.
And anyone who loves bike journeys as much as I do knows, the bits on the side are just as thrilling as the main event of riding the trails.
The capital, Skopje, is a good place to start to get your bearings and a sense of North Macedonia's history. Defiant blocks of the communist times are chunked together with an elaborate Ottoman-era old town. Some visitors seek the birthplace of the great humanitarian and Nobel Prize winner, Mother Theresa. Others (to the astonishment of many Macedonians) want to explore the kitsch side of this capital; a bewildering display of extravagant neoclassical statues commissioned by the government in a misfired campaign to make "Skopje and Macedonia great again".
I arrived in the middle of the "colour revolution", when crowds would gather each evening to deface these enormous and bewildering "erections" with paint guns in protest of the government's "misspent millions". Joining a revolution was not part of my Macedonia grand plan, but a peaceful march with the locals was a great way to see the city and one of those random travel experiences that sticks with you long after you've returned home.
The Republic of North Macedonia is 80 percent mountainous blessed with vast natural lakes. And because it's small, it packs a ridiculous amount of easily accessible adventure opportunities you'd expect in any warm mediterranean to alpine climate. I headed with mountain-bike guides Jovan Jovanoski and Goran Milanoski from Velodrome Bike Tours to see what the rest of North Macedonia has to offer. Nature quickly took over outside the city where the landscape rapidly switched between mountain and lake vistas.
If there's an epicentre to this adventure wonderland, it has to be Ohrid, where a natural and a cultural UNESCO heritage site of "outstanding universal value" sit side by side. Ohrid is one of the world's rare ancient lakes described by UNESCO as a "natural phenomena that has continuously existed for at least two million years". It's also home to 200 endemic species not found anywhere else on the planet. Sitting humbly on its shores is the heritage town of the same name and the Bay of Bones, one of the oldest settlements in Europe.
Despite actually having no coastline, the nation is often included on the list of Mediterranean countries based on its history, ethnicity and cultural ties to the region as a whole. Those influences and a period of Ottoman rule means meal times are a grand meze mix of flavour-popping Mediterranean and Middle East dishes. "Organic" and "locally grown" are as common as muck and it seems almost everything is turned into their national tipple, Rakija.
One evening we pulled into the 9th century Monastery of St. Naum (Sveti Naum), which sits on a rocky cliff near the border with Albania. "Get your passport," Jovan insisted. "We're going to finish the day with a beer and cake in Albania." We followed a single trail to the border and 30 minutes later we were tucking into a slab of Tri-lece; a sweet three-milk speciality from the Ottoman era. Of course you can you get this cake in Macedonia too, but as Jovan said, "it's better in Albania." On the way back, I thought there might be a chance to pick up a bag of Macedonia's most famous fruit – the Ohrid cherry. "No, they're not in season," Jovan shouted.
"Wait," he said pulling up his bike. "My grandmother preserves them – I'll call her," he said.
"Magic!", I replied.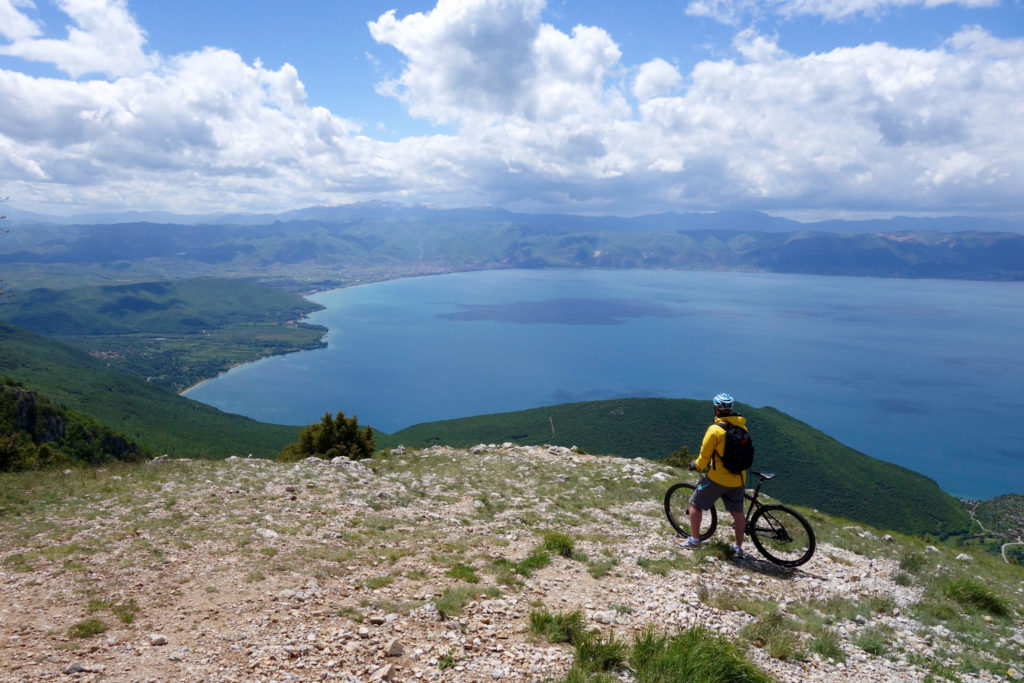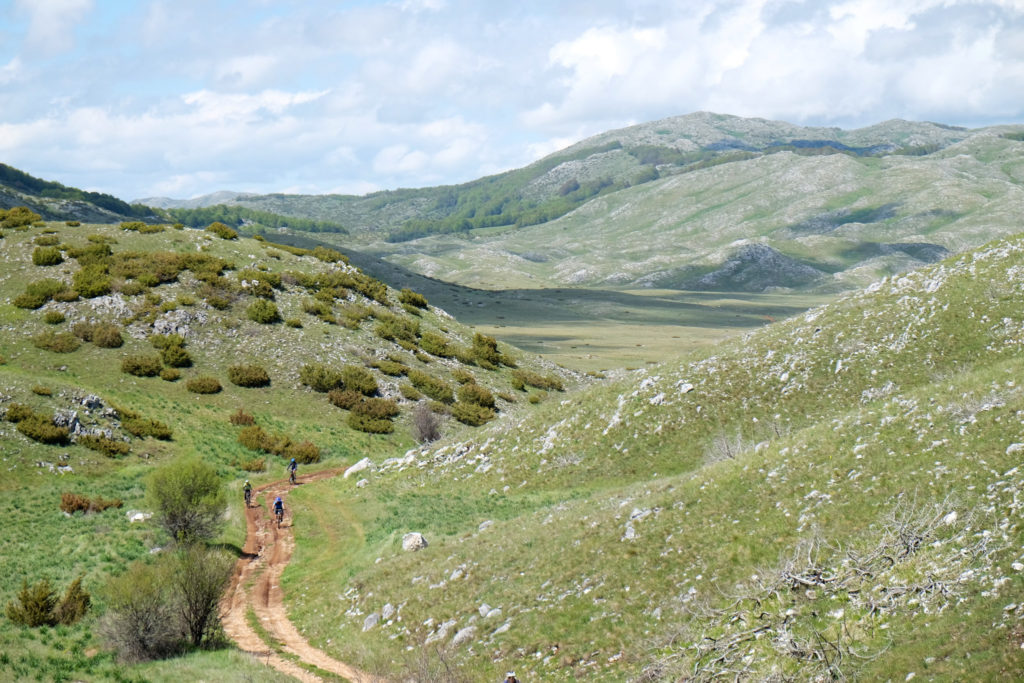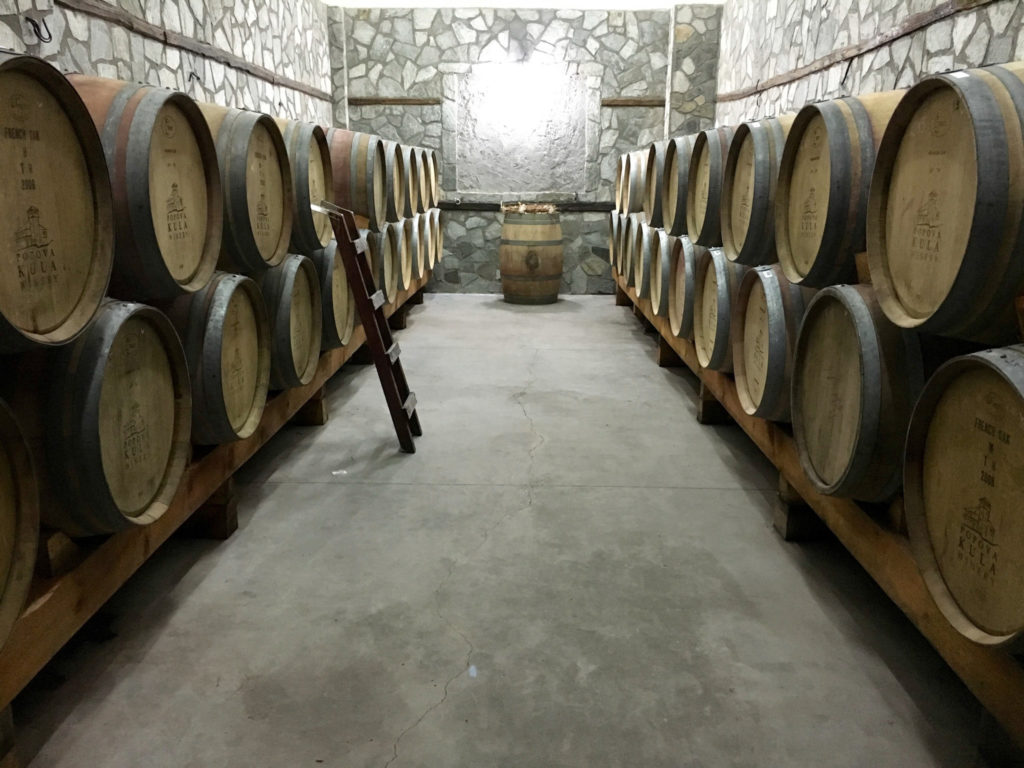 More info about Mountain Biking in Macedonia
Trails in Ohrid, Galicica National Park and Pelister National Park: Contact Jovan Jovanoski – Email jovanohmk@hotmail.com
Trails in Mavrovo National Park: Contact Marko Bekric at Galichnik Mountain Bike Adventures – Email galicnik@outlook.com
Five other top experiences in Macedonia
1) Be a bear ranger
Macedonia is one of the few areas in Europe where brown bears wander free without borders. Spend five days trekking in the forest with park rangers. Learn about bear behaviour and how Macedonia is connecting tourism, local people and conservation to protect bears and other wildlife.
To join a bear conservation trekking adventure Email: gorki.balojani@balojani.com.mk
Web: www.balojani.com.mk
2) Go to a traditional wedding that everyone's invited to
Every year on 12th July, the tiny mountain village of Galichnik attracts people from all over Macedonia for their traditional Wedding Festival. Everyone's invited -tourists included. For a special experience, stay in the cozy B&B home of Borka and Pavla, a legendary couple who are the only permanent residents of this summer holiday village. During the summer season, their homestay is the perfect base for exploring Mavrovo National Park.
For accommodation and more info email: Marko Bekric galicnik@outlook.com
3) Visit a 'forbidden Island'
Golem Grad is not really forbidden but it is highly protected. This uninhabited island of global scientific interest is known for its endemic flora and fauna, significant birdlife and high concentration of ancient ruins. The island, which can only be reached by boat, is definitely one for the nature-cum-history lovers and the kind of place you imagine a T-Rex could stomp up at any second.
More info at: http://eden.mk
4) Spot a Lynx in one of Europe's oldest National Parks
With over 500 kilometres of mixed-use trails, Mavrovo National Park is a peaceful wilderness known for its panoramic views, extensive beech forests, alpine meadows and pristine rivers. It's also home to the critically endangered Balkan Lynx. But with only 45 or so wandering between Macedonia and Albania, you'll be very lucky to see one.
For Mavrovo trekking and horseriding contact info@macedoniaexperience.com and see www.macedonia experience.com
For Mavrovo Mountain Biking contact Marko Bekric – Galichnik Mountain Bike Adventures galicnik@outlook.com
5) Dive in The Bay of Bones – Ohrid Lake
"The museum on the water" in the bay of Bones is a village reconstructed from the archaeological remains of a stilted bronze age settlement. Uncover ceramics and artifacts, which tell a story of a civilization that exited thousands of years ago. The Bay of Bones is aptly described by a journalist colleague as "the coolest diving spot you've never heard of.
More info at: www.macedoniaexperience.com
Read my published article "The Magic of Macedonia" here